Gary O'Connor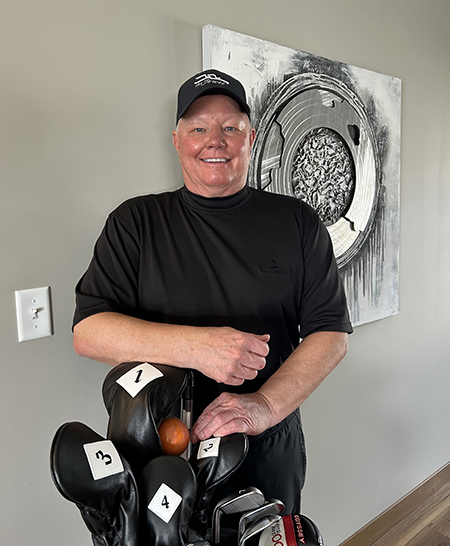 507-259-8989
goconnor1961@icloud.com
$90 / Session
Jewel Member $75 / Session
Call or email Gary to schedule a session
Gary's teaching philosophy is simple. Golf is not a "one size fits all" sport. Every golfer's physical make-up and learning styles are unique to them as their golf swings are too. He believes it's important to offer a relaxing, fun, and welcoming environment to each lesson by keeping it simple.
Experience:
Former High School Golf Coach
Golf experience for past 45 years
Instructor and Club Fitter for 25 years at Rochester Indoor Golf Center
Working with Gary has been incredibly helpful and seeing real results in consistency and confidence. Gary's patient, calm and easy-going demeanor help keep me from getting discouraged when I have a few bad shots. He's got multiple ways of explaining movements so he can always find a way to make it click with me. But I think the thing that really makes Gary a great instructor is that he does all of this without overloading me with information. He focuses on the top one or two things I need to work on. We keep a text thread going so that when I'm practicing on my own, I can refer back to the instruction that is specific to me.
Session Includes:
Private lessons geared more towards a supervised practice session rather than a ball beating session. The whole purpose is to have each person properly prepared for their experience on the golf course.
Video recording-cameras from the front and side record your full swing so you can clearly see club and body positions that affect performance.
Session consists of initial interview, expectations, and goals.
Video analysis with "before and after" synchronization. Ability to sync up against a PGA tour player.
Follow up text message for future reference.
After a beautiful drive down to Lake City, I took an hour golf lesson at The Jewel from Gary. His swing video system showed and clarified my faults. Gary clearly explained the things holding me back. Following my instructional session, I saw immediate improvement in my game. His lesson set me up for long term success. He also finalized our session with a follow up text message as a lesson reminder reference.
Check out what else Gary's students are saying…
Gary is a great mentor and knows what he is doing. He is flexible and fun to work with. He has abundant knowledge about the game and can recognize the smallest details in your swing. Would definitely recommend Gary to anyone looking to improve their golf game.
Gary's teaching style is very helpful to me. He is patient and willing to go through multiple different "feels" to help you get the swing you want. He is enthusiastic and kind when teaching which makes you feel like you're in a safe environment. Gary also sends follow up texts on the "feels" he teaches to help you remember when you're out practicing on your own.